Go International Group vision >> Your global partner in creating AMAZING events

concepts . strategies . creative innovation . marketing communication . technology . solutions .
At Go International Group Dotcom, we believe in four values which intrinsically guide us towards better living resulting in healthy growth as a human being and as a corporate entity. It is through Sharing of Insights that we are able to conduct business effectively and with Integrity. Our team prides in embracing Love and Valour as its core values, and as a result are constantly able to brave new paths in search of innovative creative solutions, which contribute to brand building. And without a doubt, it is our love for what we do which finally makes us outshine the rest.
That's why we are not just about execution. We focus on creating unique content + experiences [GO+Ux].
Our methodology is simple. We find the bridge to connect brands and their target audiences, then build an experience out of that connection. Our work tools are creativity + innovation in marketing communication, ground activation, electronic and traditional media engagement, content development and almost always, creative technology deployment. Although we're traditional at heart, our outlook is futuristic. And that is why idea generation is part of our daily lives, as it helps us help brands leap into tomorrow's market.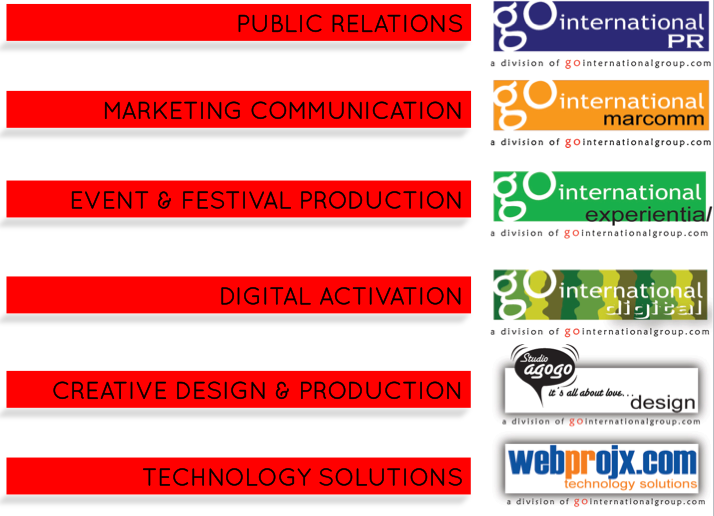 Our core business units include:
technology & new media  E-solutions for marketing communication
: ICT application solutions
: Creative content development
: Web-based design, programming and development
: Digital Activation
marketing communication services Creative marketing solutions
: Strategic consultancy and concept
: Advertising
: Copywriting
: Creative Design
: Custom publishing
public relations Make your mark. Value your reputation
: Strategic consultancy
: Media relations/media monitoring
: Issues management
: Corporate communication
: Internal communication
meetings, incentives, conventions, events Turn-key event consultancy
: Conceptualisation/event management/incentive programmes
: Buildup and construction
: Vendor & venue liaison
: Production, audio visual, artistic direction, entertainment
community projects(CSR) Community empowerment projects
: Empowering youth ('indie' music & e-sport events)
: Empowering women (spoken word events/audio book project)
: Empowering everyone towards fitness (cause-related charity marathons)